Tippy
Tippy is a helpful utility extension where it's primary purpose is to add favicons and tooltips to livemarks, but an additional feature is the ability to add a link to the tooltip when you select a toolbar bookmark, so it tells you where you are heading.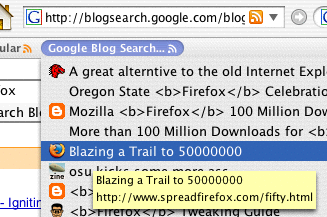 After installing the extension on Monday, I nonchalantly went on with my browsing. Since it's the end of the week, I've noticed that I'm starting to use it more and more.
However, one of the things I've noticed is that some URLs in my bookmarks are so long, the tooltips stretch across the entire screen. Hmmm. One idea for the author is possibly creating an ellipsis for the URL if it goes past 100 characters. Just a thought.
I've said this before with other Firefox extensions, but Tippy is an extension that could've been included as an innate ability of Firefox instead of a third-party extension. It is good to see a URL along with a long description in your bookmarks. I can see the option in Firefox as well. The dialog box for this option would be similar to WinAmp's MP3 title tagger syntax: <%title%><br /><%URL%>. Creating these defined attributes for how you display your title and URLs or even....tags would be a great addition.
Tippy is an unexpected welcome. This extension completely caught me offguard and is currently being used every day.